WHY CHOOSE HARDWOOD
TYPES OF HARDWOOD
BEST ROOMS FOR HARDWOOD
Why Choose Hardwood Flooring?
The number one reason so many homeowners are drawn to hardwood floors is the aesthetics: Wood is rich, natural and uniquely individual. Hardwood floors enhance the look of any room and provides a timeless beauty that increases in value over time.
Taking care of  your hardwood floors is practically effortless today with new technology in durable, diamond hard finishes requiring little more than routine sweeping/vacuuming and occasional damp mopping.  Check out our care & maintenance guide on hardwood flooring.
The range of available styles (Hard-scraped, wired brush, smooth, textured, exotic) and species (maple, oak, cherry, chestnut, walnut, and hickory) also presents many decorative options. From traditional red oak to exotic species like Jatoba, from classic, narrow-width strip to 11" wide rustic barn style boards, you'll have no trouble finding a hardwood floor to match your style.
Types of Hardwood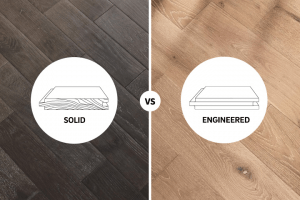 There are many styles of wood floors but only two types: sold and engineered hardwood. While both are 100% real wood and can be refinished several times, the similarities end there. Solid wood flooring is 100% of the species throughout the entire board. Engineered wood consists of various wood fibers fused together under heat and pressure to form a composite board. The top surface is still 100% hardwood exactly like its solid wood counterpart. The advantage of engineered hardwood construction is that its offers greater dimensional stability that can handle a certain amount of moisture from the subfloor without warping or cupping. This advantage allows them to be installed anywhere in your home, above or below grade, including moisture-prone basements.
SOLID HARDWOOD ILLUSTRATION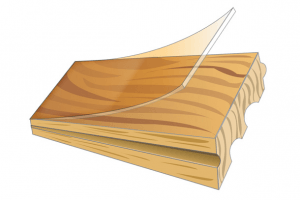 Solid Hardwood are typically thicker, planks that require nail down or glue down installation method.
ENGINEERED HARDWOOD ILLUSTRATION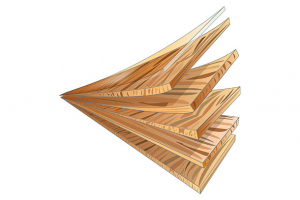 Engineered hardwood typically is 100% natural wood as the top layer, and the bottom layer is manufactured with thin cross ply sheets of wood.  This method makes a highly stable core. It also gives the ability to install it in basement areas.
Hardwood floors are also characterized by their hardness ratings, a number indicating a wood species' resistance to scratches, dents and wear. Popular species like red oak have a standard hardness suitable for most household activity, including kids and pets. Exotic species tend to be at the top of the hardness scale while soft wood species like yellow pine fall toward the bottom.
Best Rooms for Hardwood
For heavy traffic rooms like the kitchen, entryway or hallway, choose a hardwood such as oak or hickory, which have a good hardness rating. If you are putting hardwood flooring in the kitchen, or bathroom. Make sure you read the manufactures specification on that product.  Most manufactures do not recommend putting hardwood flooring in rooms that have water sources in them.  Although, with modern trends and inspiration, hardwood is installed in powder rooms and kitchens.
Lightly used rooms like the bedroom or home office are good locations for softer woods, such as cherry or walnut. For basements, solid wood floors are not recommended because of humidity levels. This is where an engineered hardwood floor makes perfect sense. Bathrooms are a poor choice for any wood floor – solid or engineered – because of the potential for standing water from tubs and showers.
What type of rooms can you install hardwood floors?
Solid hardwood flooring is a good selection for the first and second floors.  It does make the room look larger and more upscale in living, dining, kitchens and bedrooms.
As for Engineered hardwood flooring is a good choice for every level of the house. It is a flooring product that can go where solid wood cannot.